Brian Jacobs • Acoustic Guitar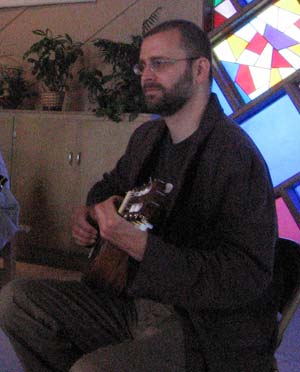 Brian has been playing guitar for over 25 years. His interests in a wide range of music led him to choose the classical guitar and a loose finger style as his instrument and method of playing. Brian studied folk, jazz, and classical guitar with private teachers in Seattle, Cleveland, and Athens, Ohio.
Aside from occasional performances in these cities, Brian has chosen, until recently, to play for his own enjoyment, while focusing his professional activity in the visual arts world. Trained in fine arts since he was a child, Brian holds a BFA in printmaking and an MA in painting. His paintings can regularly be seen on display at group shows throughout the Cleveland area.
E-Mail Brian
←Back To The Band